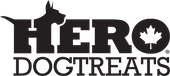 Managed Servers
Hero Dog Treats
Hero Dog Treats is a St. Catharines business that produces and sells natural pet food to the Canadian and US markets. SolaSecura studied their industry requirements for efficient IT solutions. The priority was to implement network solutions that provided stability and reliability for the business. We redesigned their network and wireless system and setup a server room. We combined systems from Fortinet, DELL and Raspberry PI as well as multiple operating systems – Windows and Linux servers.
In order the improve the productivity and security, we also migrated their data form the cloud to the on-premises server. The wired and wireless network covers their numerous factory and office areas and needs of their 30 employees.
The system is sophisticated, enabling us to monitor its health, discover potential problems early and maintain it and decrease any downtime.